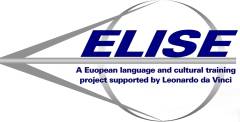 The aim of the Elise project is to build upon the EU project Elucidate. This follow-up takes place in Ireland, Scotland, Denmark, Sweden and the Netherlands.
The project is a non-commercial venture which aims to investigate exporters' needs and knowledge of foreign languages and culture. The results will be of particular benefit to existing and forthcoming exporting companies.
The dissemination of these results will be principally via this web site, however, there will also be reports, brochures, video-packs and a seminar. The material is of particular value to export managers, vocational language curriculum designers, and others with an interest in exporting.
Country specific results in the different languages of the involved countries
Denmark    the Netherlands    Scotland    Ireland   Sweden
Results in English:
European Overview Report
Success stories
Read about how different companies deal with language and cultural barriers
Seminar
Watch video interviews with Danish voiceover
Denmark    the Netherlands    Scotland    Ireland   Sweden
More information in Danmark :
Lise Damsgaard Jørgensen
Tlf: 35 32 90 79 (8.30 – 14.30)
e-mail: lise @ cst.dk
All material of this web site is a product of the ELISE project which was made possible with the financial assistance of the European Commission under the Leonardo da Vinci programme. The content is the sole responsibility of its authors and in no way represents the opinion of the Commission or its departments.